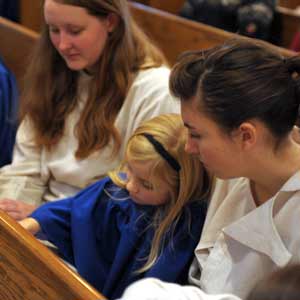 Worship with Us

Find a home. Find yourself. Find God. Como Park Lutheran is a place where we draw near to God and God draws near to us.
Sunday Services are at:
8:30am and 10:45am
7:00pm Como Evening Prayer (held on the Second Sunday of each month)
Worship at CPLC is participatory and liturgical, Biblically grounded, meaningful and relevant. It borrows from both classical forms of liturgy and more modern expressions of worship as well. It touches your heart and lifts your spirit and provokes your thoughts and actions for the week to come. Join us for worship. Bring a friend. Believe that God speaks to us and moves us as we worship together.

Como Evening Prayer
Come and experience Como Evening Prayer on the second Sunday of each month at 7:00pm for a special meditative experience in worship and prayer.
This is a beautiful and stirring contemplative service, offered in candlelight with music, readings, prayers and silent meditations.  Bring your hopes, your hurts, your celebrations and concerns and your passions, and join us at Como Evening Prayer.