You guys get it
Posted on
"Every occupation has its own honor before God, as well as its own
requirements and duties."  – Martin Luther (LW 46:246)
The faith community that is Como Park Lutheran understands this line from Martin Luther and truly lives it out!  I have come to know this over the past year of internship.  You guys get it!  You know what it means to be an internship site for candidates for pastoral ministry like me.  You know that it is a vocation, a calling, an honorable one that comes with many requirements and duties, but also blessings.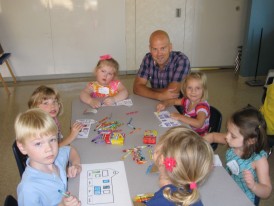 I want to thank you for blessing me this year – for teaching me, for praying for me, for growing with me.  Thank you for answering the call and for living into the vocation of an internship site.
My prayer for you is that you continue to live into this calling and all the blessings and challenges it brings!  Just think of the thousands who will be blessed because of your ministry to interns like me.
Thank you all.  Thank you for getting it and for living it out!  And now…
For this reason I bow my knees before the Father,  from whom every family in heaven and on earth takes its name.  I pray that, according to the riches of his glory, he may grant that you may be strengthened in your inner being with power through his Spirit, and that Christ may dwell in your hearts through faith, as you are being rooted and grounded in love. I pray that you may have the power to comprehend, with all the saints, what is the breadth and length and height and depth, and to know the love of Christ that surpasses knowledge, so that you may be filled with all the fullness of God. Now to him who by the power at work within us is able to accomplish abundantly far more than all we can ask or imagine, to him be glory in the church and in Christ Jesus to all generations, forever and ever. Amen. (Ephesians 3:14-21 NRS)
This entry was posted in Weekly Words and tagged Calling, CPLC, Internship, Vocation. Bookmark the permalink.